Unsure what being a handicapper on our site entails? Well basically there are thousands of people out there who make a living offering up predictions for sale on sports (mostly US ball sports and soccer). Most of them are bullshitters who make up their results but I'm convinced many MMA fans can do a really good job of making money betting on MMA, so I made this site to find out!

If you've reading this page, you obviously think you're pretty decent at picking MMA fights... Well, it takes literally 2 minutes to log your picks here, so just give it a go and you might find you're literally the best in the world! If you're not, who cares? You might as well give it a go.

The standard format for offering predictions is to bet 1 to 11 "units" on who you think will win. You can do straight up fight picks, parlays, or "proposition bets" where you pick certain outcomes, e.g. over / under 2.5 rounds.

Units are effectively a standard currency used by all sports handicappers, to stop people using different currencies or betting amounts. Basically it makes it much easier for buyers to see who does a good job of offering predictions.

We've made sure entering picks is minimum effort and all grading of picks (setting them as won or lost) is automatic!

To make straight picks, just select the event your pick is on.....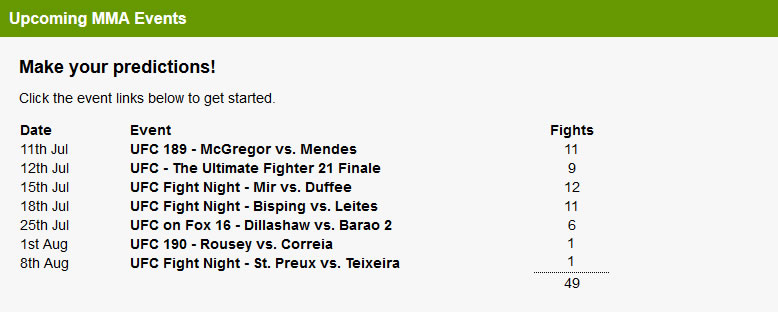 Then scroll down to the fight in question and enter your unit bet amount. Once you've done that, a box will appear to either use your own custom odds (if you think ours are out of date), and to enter an optional pick writeup.
You can also make prop bets.... Simply click the relevant drop downs and submit! You can enter the odds in decimal or American and the system will show you what that represents in terms of a win %.
And for parlays, you basically build the parlay exactly as you would with a prop bet. We then calculate the parlay's odds for you.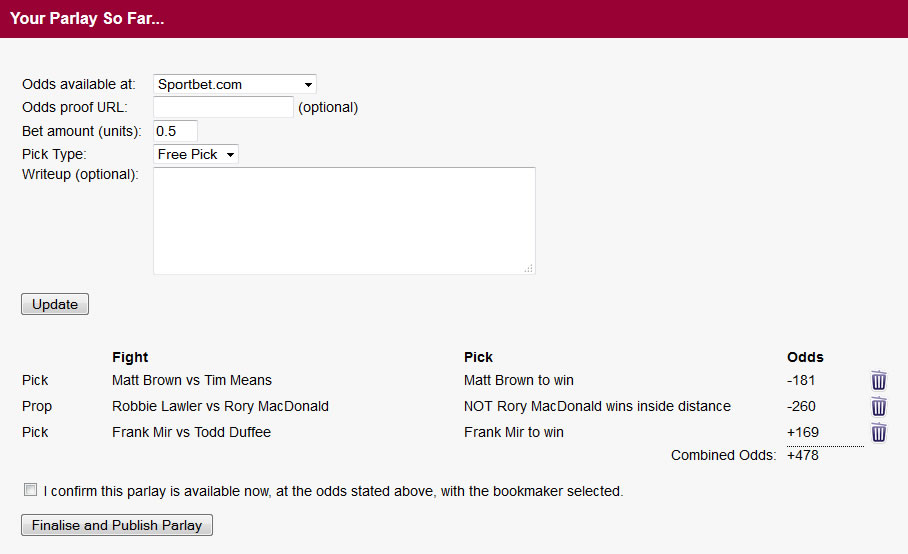 Best of all.... Once the fights have happened, all picks will be graded as win / loss / cancelled automatically, so you have to do no work at all on that front! We also provide analysis of your picks, to help you see where you are making your money. We'll be adding plenty more stats breakdowns just for you to analyse your own bets (i.e. not visible to anyone else), including fight position breakdown, weight class, gender etc... But for now, you can check out any user's profile to see the following stats breakdowns.
We've also got tools to help you breakdown fighters. A simple notes section for now, but coming soon, a full stats breakdown of each fighter for you to fill in, if you want... We'll then program some fancy stuff in to flag up any good matchups coming up, based on your stats entries! Nobody else sees this info - it's just for you as a handicapper.
You're also more than welcome to add links to your website or twitter, to help promote your service. We have a "verified at betmma.tips" button / iframe that you're welcome to use, but you're under no obligation to do so.
So that's it! All you need to become a successful MMA handicapper... Well... assuming you can make good fight picks of course! Once you do that, it's over to us to promote you and generate some interest in your profile; something we'll be looking to do with an upcoming app and just generally being a great resource to fight fans with all our features and stats.
Thanks for your time and hope to see you signing up soon!